Services and Structure
LMRID currently contract with Securitas as our security service provider.  Under this arrangement, Securitas are responsible for providing two public safety response vehicles into the LMRID area on a 24×7 basis, backed up by a 24×7 control room.  Additional patrollers (and chrysalis cadets) are utilised on an ad-hoc basis as budget allows, and these resources are based out of the LMRID mobile trailer.  Securitas provide ongoing overview and incident reporting to the Board as well as GPS traces of the movement of the vehicles as and when requested by the Board.  Our control room and Securitas management maintain very strong links with the Mowbray SAPS and the local CPF.
To contact the LMRID control room please dial 086 105 6743  (08610 LMRID) or use the SOS or Report features of the Buzzer App
Buzzer
LMRID are committed to supporting the two neighbourhood watches in our area in a rollout of the Buzzer App.
Buzzer simplifies the critical process of reporting issues and incidents and calling for help, both from a security provider such as LMRID as well as from your immediate community neighbours.  Buzzer was developed and launched in Hout Bay in 2019, leading to a significant improvement in incident specific community awareness, community responses and a reduction in crime incidents.  It is designed to be the fastest method of providing you a swift response in case of emergencies.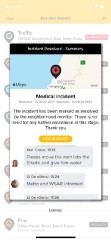 We've all witnessed safety in numbers and Buzzer's design allows you to call for help from the people closest to you, within your community. It also allows you to help when and if you can.  Buzzer community safety is all about simplicity and effectiveness, because when it comes to safety – every second counts.
The neighbourhood watch committee members are the community admins for Buzzer in the area.  LMRID is the registered BuzzerPro Monitor (control room) and will be central to the coordination of responses and the spread of information and updates.
Please download and install the App from here:
For more details, please see our dedicated Buzzer resource page.